FULL SWING by Crystal Jordan
(Cobblestone Press, August 18, 2006)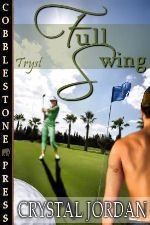 The only place they still communicate is between the sheets…a professional woman golfer and an Army Ranger struggle to save their marriage after he's seriously injured in combat and has to retire. Outside the bedroom, everything is falling apart because he believes she deserves better than a broken man, but she dreams of a future when they stop fighting and start talking long enough to reclaim the happily ever after that once seemed so certain.
ABOUT CRYSTAL JORDAN
Crystal Jordan only began writing about a year ago after she finished graduate school and needed something to fill the hours that used to be eaten away by homework. What started as a hobby has quickly become a new career. She now writes paranormal, futuristic, contemporary, and erotic romance. Additionally, she is a member of RWA and its erotic romance chapter, Passionate Ink. She also belongs to the award winning author's resource website and forum RomanceDivas.com, where she serves as a moderator and Paranormal Co-Liaison.
AVAILABLE AUGUST 18!